The cruiser is present in
Teman Paradise Beach
, 
Pacar Beach
 and 
Tidur River
 and is the 5th vehicle in the game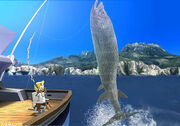 . A man on the Teman Paradise pier offers to sell it to the player at 100,000,000 points which is possible at one point far in the game, but he offers to knock it down to 100,000 points upon full completion of the "Ocean's Dream"
quest
 (fish in all 8 major areas of the island, and catch 80 different species of fish). 
The cruiser is the most valuable vehicle in the game, as it allows the player to access previously inaccessible areas like Safir Cave and Sepuluh Island, and it also lets the player troll and ocean fish and visit Sembilan Island at whim. Additonally, the cruiser features a radar and its very own room which functions as a hotel room and a fishing center (without the store) in one. Entering the room immediately starts converting fish to points. The cruiser's room contains most features common throughout hotel rooms; it doesn't contain the alarm clock or the aquarium profit report. The player thus cannot night fish or early morning fish, but he/she will still receive aquarium profit. Once night falls, the player is automatically returned to the room and cannot exit. Players, can, however, select night fishing in a hotel or wake up early in a hotel and then enter the cruiser before or after normal fishing times would allow.
As a vehicle, the cruiser accelerates comparatively slowly but has a very high top speed.