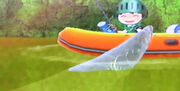 The inflatable raft is the third vehicle to be seen, and it is fairly common throughout the game. It costs 50 points per day to rent. It has slow acceleration, but moderate top speed and handling. Its fishing angles are small, meaning the player must change positions often when trying to cast at specific fish.  It is amazing for the player can stay balanced holding up such enormous fish! You can use a raft in Dua Ribu Lake, Panas Jungle, and Safir Cave
Ad blocker interference detected!
Wikia is a free-to-use site that makes money from advertising. We have a modified experience for viewers using ad blockers

Wikia is not accessible if you've made further modifications. Remove the custom ad blocker rule(s) and the page will load as expected.