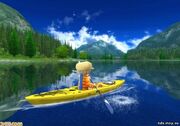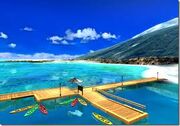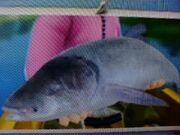 The kayak is the second rental vehicle in the game. It costs 50 points to rent it for the day. It is the hardest vehicle to use because the control scheme is entirely manual and the player must press alternate buttons to paddle and move. The kayak also offers limited fishing angles, so the player must adjust his position much more. The kayak is also the slowest vehicle in the game, slower even than the player walking, though only surpasses walking in utility in the farther reach it brings.
Kayak race activities are also available occasionally from the bulletin board, and they involve completing a timed kayak course. 
Kayaks are available in Pacar Beach, Teman Paradise Beach, Tidur River, and Kanan Lake
Ad blocker interference detected!
Wikia is a free-to-use site that makes money from advertising. We have a modified experience for viewers using ad blockers

Wikia is not accessible if you've made further modifications. Remove the custom ad blocker rule(s) and the page will load as expected.