Sharks are fish with cartilaginous structures that help support their bodies instead of bones. Sharks also have 5-6 gill slits, a liver, and rough placoid scales (denticles), which are unique to sharks, and not bony fish. Sharks are the most variative size ranging in fish, ranging from a few inches and a few ounces (pygmy shark), or like the Whale Shark, over 40 feet and and over 20 tons. The different types of catchable living sharks in this game are:
The different types of catchable extinct sharks in this game are: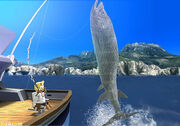 Xiphactinus


Helicoprion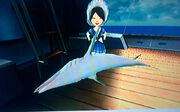 Ad blocker interference detected!
Wikia is a free-to-use site that makes money from advertising. We have a modified experience for viewers using ad blockers

Wikia is not accessible if you've made further modifications. Remove the custom ad blocker rule(s) and the page will load as expected.